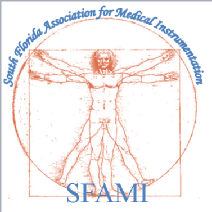 The South Florida Association for Medical Instrumentation (SFAMI) was founded in the early 70s by biomeds in the greater Miami Area. The organization was established to:
1) Assist members in growth and development of their biomedical programs by the regular exchange of information, ideas and experiences through meetings and training programs.
2) Establish contact and promote better communication between manufacturers and biomedical programs.
3) Promote better understanding and cooperation with institutional administration.
We now service the HTM community for the Tri-county area (Dade, Broward and West Palm Beach) Full membership is eligible to all persons presently servicing medical equipment and upon the acceptance of the SFAMI membership committee.
Associate membership is offered to related healthcare professionals that may have an interest in the service or support of medical equipment.- Student membership is offered under the associated membership but is discounted with current college student id.
Current Dues is $35.00 for Full and Associate memberships a discount of $5.00 for students with valid student id.
Included in the SFAMI membership is enrollment and payment of dues for the Florida Biomedical Society (FBS) SFAMI is currently members with Association for the Advancement of Medical Instrumentation (AAMI)
SFAMI supports all those whom are working to improve medical equipment and the professionals that service and support it.